Partnership Philosophy
We are professional legal partnership dedicated to extending prompt, accessible and quality legal services and cutting-edge solutions to legal concerns. As lawyers cognizant of our duty to our people, community and country, we are dedicated to the pursuit of truth and justice. We abide by the precepts of good faith and the highest degree of professional and ethical standards.
MEMBERS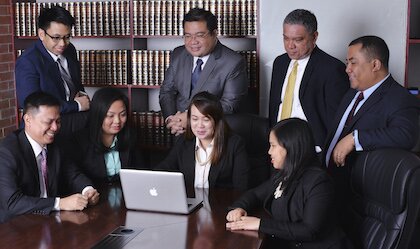 Formally established in May 2006, the Jaromay Laurente Pamaos Professional Law Partnership brought together more than sixty years of collective legal experience in providing general legal services as well as advocacy in the specialized fields of real property, banking and tax advisory. The professional relationship between Attorneys Stephen V. Jaromay, Cecilio R. Laurente and Fred B. Pamaos, however, goes back several years and can be ultimately traced to their alma matter — the University of the Philippines College of Law.
READ MORE
Services

Litigation

Criminal law
Civil law (including family law, such as annulment, legal separation, custody and support matters, adoption and guardianship, testate and intestate proceedings)
Administrative and election laws

Corporate and tax laws Land registration and related proceedings

Mining and Energy

Incorporation and operation of mining and energy companies
Assistance in small-scale and large-scale mining investments/permits
Preparation and processing of Service Contracts
Compliance requirements for government agencies
Appearances before regulatory bodies such as the Energy Regulatory Commission

Election Laws

Counseling and litigation services in Election Law, including supervision and management of client candidate's election and campaign operations

VIEW MORE
Contact Us
Please fill in the form below.
2nd Floor, One Joroma Place,
Congressional Avenue corner San Beda Road
1106 Quezon City, Philippines

Tel. No.: (+632) 454-1442
Telefax No.: (+632) 927-7673